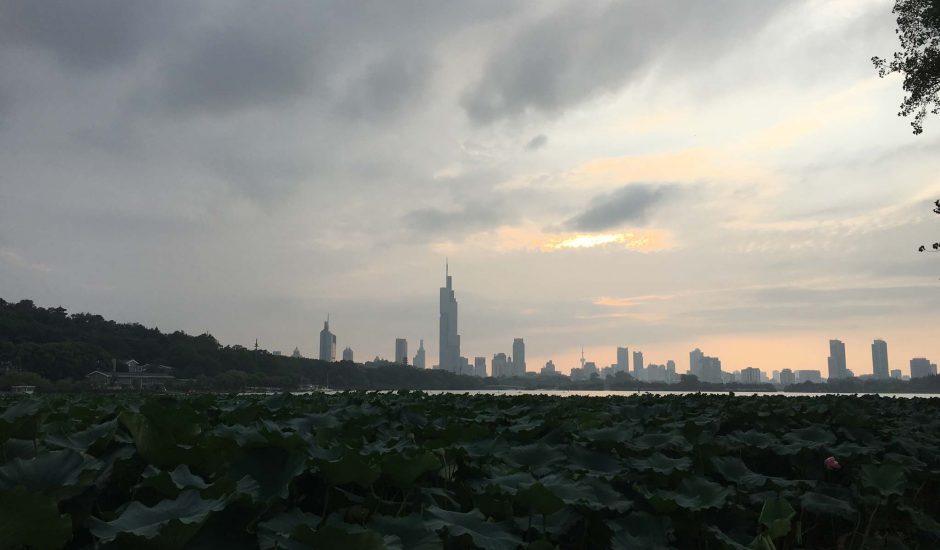 Nanjing
Nanjing is just a 2-hour train ride northwest from Shanghai. The Shanghai train station was the busiest I have ever seen (even more so than in Beijing, where I was one year ago). We arrived early to deal with the security and lines and ended up sitting on the concrete floor waiting for our train for 3+ hours.
Nanjing is a very different city from Shanghai. It is the old capital of China and the name translates to "Southern Capital". It's a very beautiful city filled with trees, people on bikes and a modern transit system.
We are staying in an AirBnB on the 11th floor of the "Excellence Building" just east of the city center. We are across the street from a school, and about 1,000 students can be seen every morning and afternoon doing stretches and exercises. Also visible is a military academy with joggers running a track in formation every day at 6AM. The neighbourhood is popular with computer stores, which sell and pack printers, graphics cards, ink cartridges etc. Even in our building many of the other apartments are filled with order fulfillment centers and at times the hallway is so flooded with boxes we can't get by. Late at night we hear them taping and closing cardboard boxes.
Sarah and I walked around Xuanwu Lake just north of our apartment. It's one of the most beautiful lakes we've ever visited. Beautiful trees, open grassy areas and views of the Nanjing skyline with a foreground of lotus plants floating in the water. As the sun set people assembled on the many islands set in the middle of the lake. We saw dance groups, exercise groups, bands and a kite-flying group with beautiful kites lit up with LED lights for night flying. As I mentioned in another post, the ages mix so well in China. We saw grandparents taking their grandchildren for walks, teenagers on dates, young families and everything in between.
On our last day in China we were reminded of the importance of double-checking our address registration. A police officer escorted us into an unmarked minivan a la some horror movie and drove us to a police station 20 minutes north to give us a 30-second speech on making sure our host has registered us. No fines though and all's well that ends well. Lesson learned! This was quite a way to end our month in China. We are flying back now to North America where we will stay for two months and deal with any reverse culture shock.