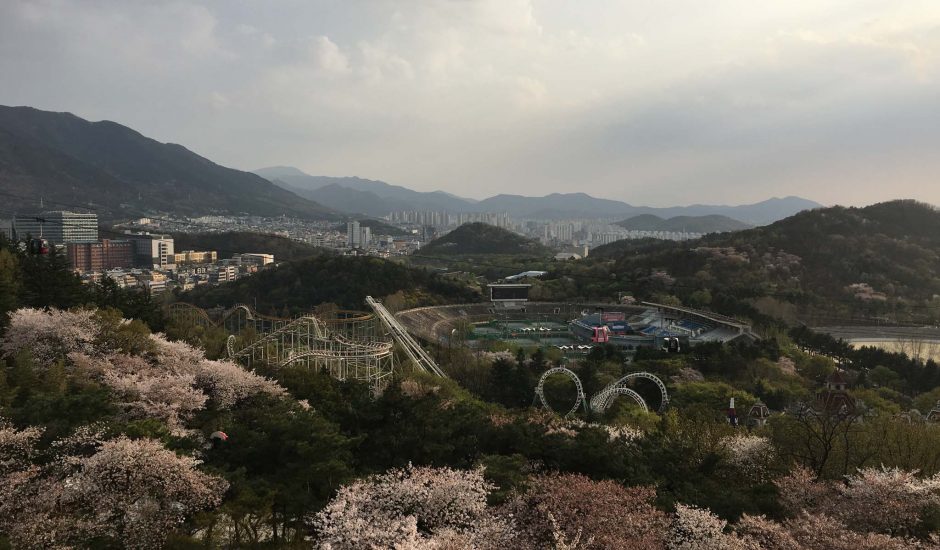 Daegu: Mountains, E-World and Downtown
The mountain
About a 30-minute walk south of our neighborhood lies the beautiful Apsan Park, which is actually a mountain with several peaks. There's an observatory at one peak with breathtaking views of the valley which Daegu City lies in. I walked up here alone twice and it's absolutely magical. After enjoying my "Kimbap" for lunch on the peak, a security guard offered me an energy drink – Koreans are so generous. As I was in the midst of self-congratulating myself for making it to the top, several older ladies showed up in full exercise mode with sun visors, shattering my ego.
Downtown Daegu
To walk downtown from our apartment we take the major roads. We pass the strip club neighborhood, then the U.S. Army base with 15-foot tall walls with rusty barbed wire at the top. After 45 minutes we arrive at downtown Daegu. Downtown Daegu is a real assault on the senses, especially on Sunday afternoons when we head downtown along with the youth crowd to experience the sights, sounds and smells. Chalk full of young couples on dates (wearing matching attire, see below), loud pop music, outdoor concerts and tons of trendy teenagers in the latest fashions. Sometimes we can hear three different pop songs playing at once from various restaurants and stores. It's all shop shop shop, full of energy.
E-world
One of our best experiences in Daegu, Sarah and I walked about 1 km north and went to E-world. E-world is like a Disneyland of sorts and boy what an experience. The matching couples were out in full force. Young couples wear matching clothing to show off their love for each other in public. I can't think of any other place in the world where couples do this and Sarah and I love it. Too many to count as E-world is a very date-y place.
E-world is set up for photos. An old London bus, a giant romantic chair, a couples swing, you name it, it's all about getting the perfect photo. With the cherry blossoms in full force we picked a perfect day for photos.
Before leaving we checked out the zoo, which, complete with squirrels, raccoons and chipmunks, felt more like a park back home.
SaveSave
SaveSave