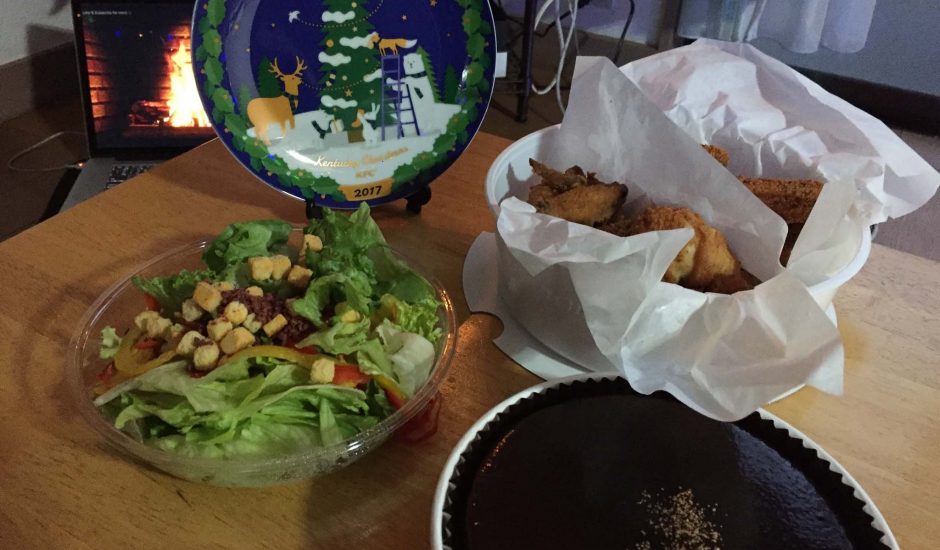 Christmas in Tokyo
We went in for some good old KFC. KFC means Christmas in Japan. For decades Japanese have been celebrating Christmas with a barrel of fried chicken. Some lights and a small Christmas tree we picked up in Akihabara set the holiday mood in our Kawasaki apartment. It wasn't quite the same as home but it was pretty good for a traveling Christmas. Outside our apartment was a beautiful bamboo forest. The Greater Tokyo area seems to be full of them so it was no surprise to find it completely empty whenever we visited.
Just before Christmas we stayed in a capsule hotel (photo in previous blog). This was a highlight of our Japan trip, at least for me. Felt like one night on a space ship…Guests were assigned matching pyjamas upon checking in and walked around in bare feet. Complete with manga reading room and free capsule toys, this won't be something we'll forget.
We spent New Years in Yokohama, which is a 30-minute train ride south of Tokyo. We stayed in a one-bedroom apartment above a metal workshop run by a charming and shy Japanese man. He took us to Chinatown in downtown Yokohama followed by a Sushi restaurant with an automated order and sushi delivery system. The nicest Airbnb yet, the loft included separate rooms with views in different directions, a fancy stereo system and a roof deck with 360 degree views of the neighborhood. The host decorated and renovated the apartment himself with a "surf" theme. We were sad to leave this place, especially as our next Airbnb, also in Yokohama, is more Tokyo-sized.
We discovered that Japan comes to a grinding halt the first week of January for New Years. Many restaurants are closed and the kids are out of school. A much-deserved break I'm sure. Our second Yokohama Airbnb, out of the way in a northern suburb, seemed like a ghost town. We have four more days in the area before heading to the forests of Saitama Prefecture.