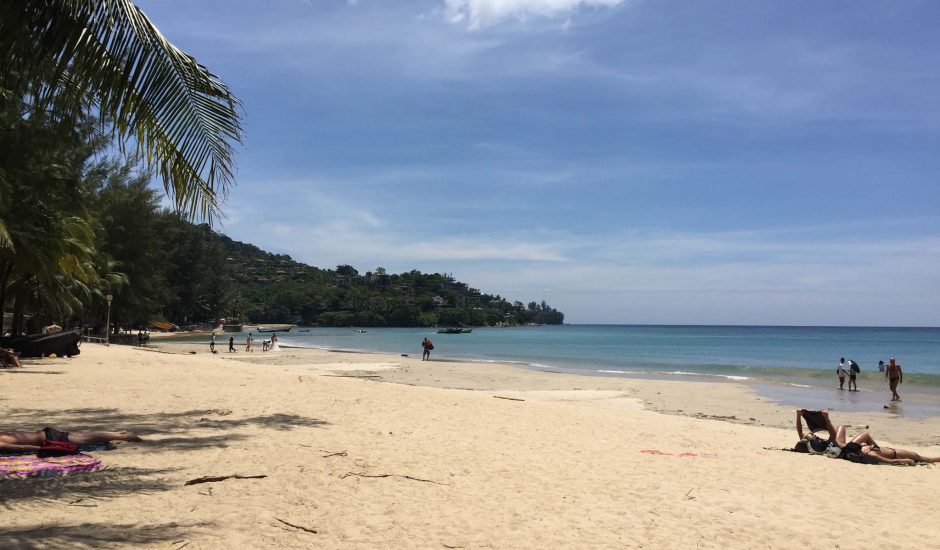 Starting to Relax
After 2.5 days at Nai Yang Beach, the owner of our cottage, Kitti, who also turned out to be a taxi driver drove us the 26 km south to our next destination, Kamala Beach. It was a gorgeous drive. As with Nai Yang Beach, John and I chose Kamala Beach in order to have a more relaxing beach stay away from the busier, famously touristy parts of Phuket such as Patong Beach or Phuket Town.
I am finding myself relaxing more and more……..maybe it is the heat, but I think it is also the vibe here……..not just because there are so many tourists on holidays, but as John and I were noticing from our surface-y, snap observations so far, the locals we have met and observed seem so relaxed compared to what we are used to in North America. The young families seem so present with each other and calm as they enjoy a day at the beach relaxing in the shade, and those who run roadside restaurants or sell things at the beach or perform other simple jobs give off a vibe of happiness and living in the moment, like there is less of the rat race and social comparison that I feel I become caught up in back home. I wish I knew more about their culture, or was able to have an in-depth conversation with a local, to find out if these observations are true, but from the outside it definitely appears this way, as far as generalizations can go.
On our drive, Kitti told us how the Muslims, Buddhists and Christians (5%, 94%, and 1% respectively of Thailand's population according to our Lonely Planet book), all live together and go to school together peacefully, and pointed out how on the road we were driving on the mosque and Buddhist temple were almost next to each other. There was a proud and grateful energy in his words I thought.
With the heat and humidity, I'm not sure I could stay here longer than our planned month, but I can definitely see how the vibe here will be good for me……..
SaveSave